Walnut Wide Plank Flooring
Found predominantly in the eastern United States, the black walnut tree, from which most hardwood walnut flooring is derived, grows at a slow pace to a height of 75–125 feet and a spread of 50–75 feet. When harvested, its wood is treasured for its practicality and beauty.
At Vermont Plank Flooring, we accentuate that beauty by selecting and harvesting only the healthiest, fully mature trees grown sustainably in small, family-owned woodlots. We then mill those trees to create wide-board planks of exceptional quality specific to your project and your specifications—all at affordable prices.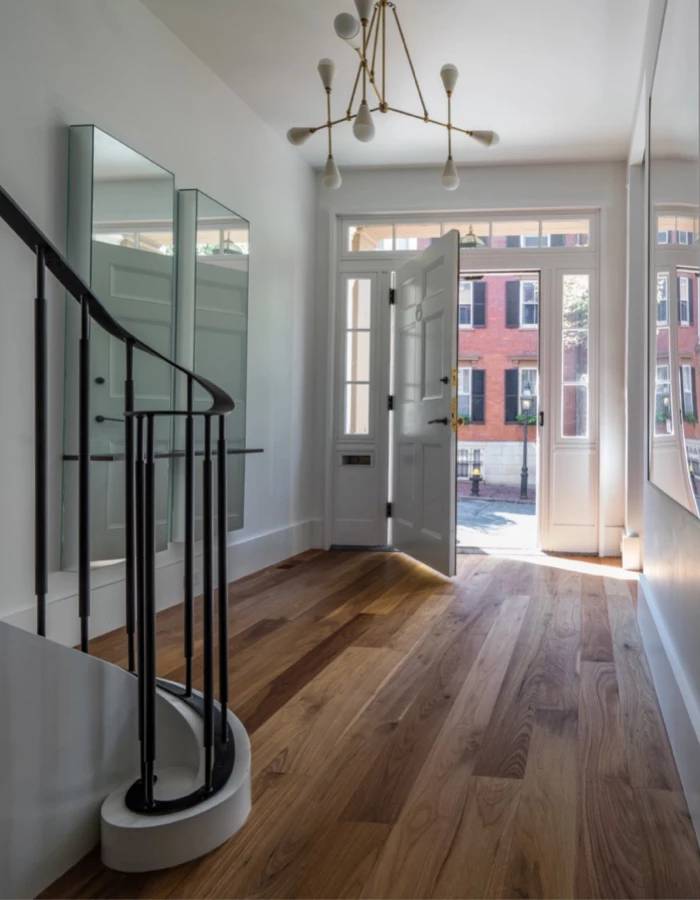 Native Americans and early settlers prized the walnut tree for its practicality. They derived medicines from the leaves and the husks of the tree's fruit. When the fruit ripened, they found a rich and flavorful nut inside. And they used the nut's shell to create inks and dyes. They also discovered the tree's interior beauty, its wood, for which people still swoon. But tempting as love-at-first-sight may be, let's look "under the hood" at walnut flooring's other qualities.
Light Character Walnut Flooring (limited availability) with Hit-or-Miss Texturing & Hartland Finish
Would you like a wide plank Walnut floor in your home?
Call +1.877.645.4317 to speak with one of our flooring specialists.
Or, simply request a sample or quote.