Engineered Hardwood Flooring
At Vermont Plank Flooring, we take the recipe for engineered wood flooring and dramatically improve upon it. We fuse the highest quality materials and then stir in the most advanced technologies to create wide plank engineered flooring that is far superior to the industry standard.
By slicing hardwood into thin plies, and then restacking them with the grain running in alternate directions, you create an incredibly strong and stable structure. Top that with a layer of your chosen locally sourced hardwood (or premium pine) species, and you have flooring that is as beautiful as it is sturdy.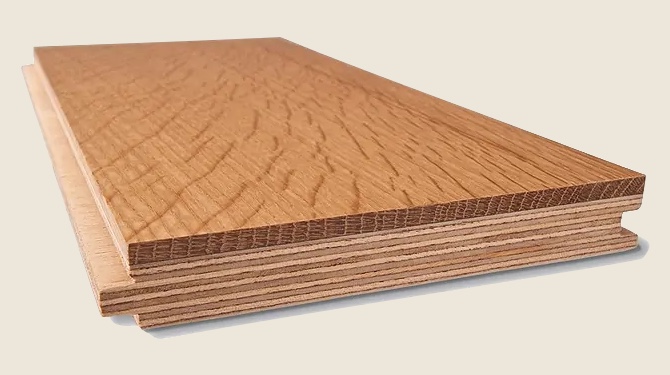 Our Engineered Hardwood Flooring exceeds CARB 2 standards. Crafted in our 100% Solar Powered, Zero-Added-VOC facility, Vermont Plank's engineered flooring meets the highest standards of indoor air quality. Read more about our California Air Resources Board Phase II testing on our Sustainability Page here.
Constructed 100% In-House at our Vermont Mill
Engineered wood planks are made of a thin layer (called a lamella) of hardwood, glued on top of a plywood base. In our lamella room, the 22-millimeter thick planks are passed through a band saw, which peels a 6.4-millimeter thick slice from the top side of the board with each pass. Two passes result in three identically thick lamellas, with 1.4 millimeters lost to the thickness of the blade itself on each pass. The lamellas are then fed through a brush machine to clean the surfaces.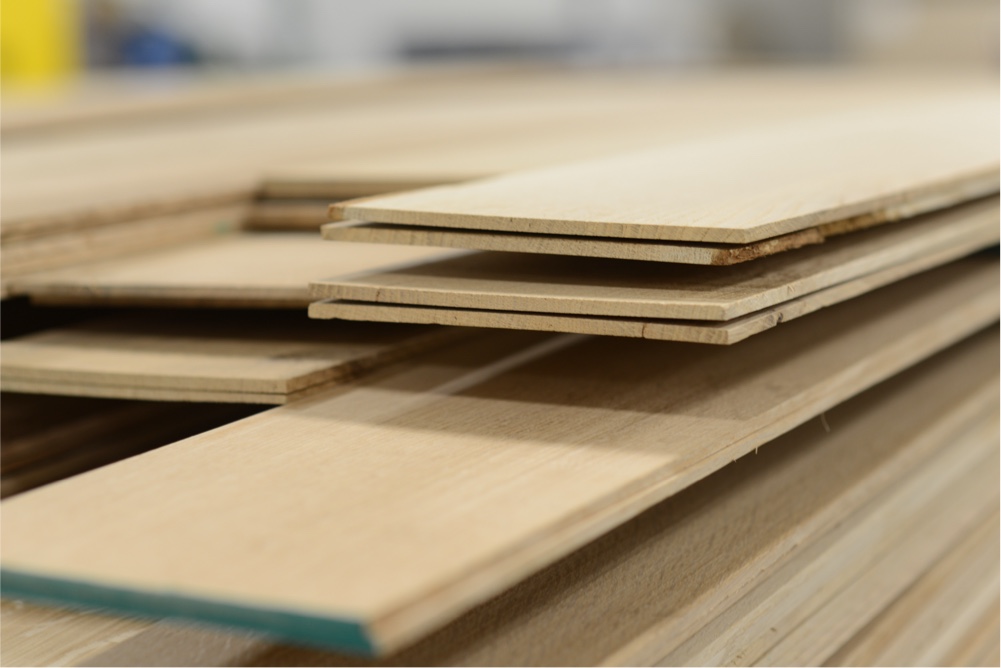 Meanwhile, the adjacent beam saw rips a 4-foot by 8-foot sheet of the highest quality 15-millimeter-thick cabinet-grade plywood into planks that match the width of the lamellas, up to 12 inches maximum. The beam saw does this with incredible efficiency, making up to four cuts simultaneously on each plywood sheet.
The freshly cut plywood planks and lamellas are then brought to the glue applicator where hot melt glue, heated to 295°F, is sprayed evenly on the plywood. The lamellas are then glued down to the plywood and passed through a five-roller press exerting 1,000 pounds of force per square inch to assure an incorruptible bond. To confirm the quality of that bond, samples are cut and alternately soaked in water and heated in ovens for various lengths of time, with multiple checks for adhesion failure throughout the process.
After passing this quality check, the planks are cut to length by a flying saw, and lastly, sent through the molder where the lamella (or wear layer) is planed to five millimeters resulting in an overall plank thickness of 3/4 of an inch. The tongue and groove is also milled along the long sides and then the planks are passed through the end matcher where the ends receive the tongue and groove.
To a traditionalist, engineered hardwood flooring may seem objectionable. The term "engineered" implies it was designed and constructed, as opposed to having simply grown in the woods, fueled by sunshine, soil, and rain.
And in many cases, that traditionalist makes a good argument. Unadulterated solid wood is beautiful and sturdy and pure. But it has limitations.
Solid wood, as a formerly living entity, continues to react to its environment, most noticeably by expanding and contracting due to changes in temperature and humidity, and by warping, buckling, or splitting if it is in prolonged contact with excessive wetness.
As such, in locations that regularly confront moisture, the stability of engineered planks is recommended to combat movement and degradation. And one doesn't have to live in a rainforest to encounter excessive moisture.
Planks laid in bathrooms, laundry rooms, below grade in basement rooms, or anywhere when laid directly on concrete, all have the potential for degradation due to moisture, even in relatively dry climates.
Would you like an Engineered Plank Floor in your home?
Call +1.877.645.4317 to speak with one of our flooring specialists.
Or, simply request a sample or quote.