Your Custom Wide Plank Flooring Team
First there was a timber company and a cabinetmaker
Our involvement in the wood business started in 1946 when Mark Tarmy's dad, Jack, started driving a lumber truck in Boston. By 1958 he had his own company selling the finest New England timber to customers around the world. He offered the best product for the price and it's been that way ever since.
Howard Mathison was a cabinetmaker in Minnesota in the 1970s who grew his business and then moved it to Massachusetts.
Then they joined forces
In 1989 Mark and Howard combined businesses in Vermont and started crafting custom-made, mill-direct, wide plank hardwood flooring, engineered hardwood flooring, and antique flooring as well. We also provide custom prefinished flooring, along with interior and exterior millwork and treads.
We pride ourselves on crafting the finest old growth, wood plank flooring without the intimidating price tag associated with other custom plank floor makers.We offer a wide variety of hand-selected woods—including FSC®-certified flooring and SFI-certified flooring—in a wide range of styles. Our focus is on supplying the highest quality hardwood flooring at mill direct pricing.
Using sustainably harvested wood from New England landowners
The majority of our wholesale hardwood flooring comes from wood selectively cut by small, private New England landowners not far from our main production mill in Brattleboro. The trees are sustainably harvested by hand when they have reached full maturity and are carefully removed to minimize any damage to the trees or the forest.
We also offer a complete line of FSC®-certified reclaimed wood floors that are hand-selected from barns and mills destined for demolition.
From start to finish... we offer the finest quality, lowest price and best value in wide plank hardwood flooring and engineered flooring. Plus, we can provide any and all molding, vents, stair parts or custom trim-work you need to match your flooring, making Vermont Plank Flooring the most convenient, one-stop shopping choice for you.
The floor you get from us will not only be beautiful, it will add great value to your home or business.
Custom Finish Sampling Shop
When you order samples from us—because you'd like us to try to duplicate a wood finish that's already in your home, or you want to see how an Ebony finish looks on Eastern White Pine—Jay will create it for you. He is a genuine master at translating your vision into reality.
We encourage you to visit us here in Brattleboro and see Jay at work. Better yet, plan on spending some time with and challenge him to create the perfect finish sample that matches—or exceeds—your ideal floor vision!
Crafting Your Custom Wide Plank Flooring
Raw lumber arrives
When a shipment of lumber arrives we immediately move it from the truck into our warehouse so it doesn't spend any time outside exposed to the elements.
It is graded and prepped—select grade cherry is separated from character grade cherry, for example—and labeled according to whose floor (yours, perhaps?) it is destined for.
Your designated lumber remains here until your order is scheduled for production, at which point it is moved to the other side of the warehouse for a quick trip through the rip saw.
The first stop is the rip saw
For those of you not familiar with a rip saw, this is where we "rip" (meaning, cut parallel to the grain of the wood) the rough-cut planks to ensure that the edges are absolutely parallel with one another. At the same time, we meticulously measure to ensure that all planks for the floor are the exact same width.
Fortunately, the laser beam that you see shining down the left side of the board in Stacy's hand takes most of the guess-work out of the process.
The boards are then moved from the warehouse to the main workroom next door.
Molder machine
A lot goes on inside the molder machine you see in the background!
Here at the molder machine the rough cut board goes in one end and a beautifully planed plank with precision tongue and groove cuts along the long edges emerges from the other.
Not magically, of course. It requires careful calibration, cleaning, and recalibration by Jim and Robbie throughout the process.
And then there's no rush to hurry the planks off to the next station, because a lot of quality control measuring, fit-testing, and record-keeping is conducted here as well.
Removing defects
If you look closely at Brian's right hand you'll see a spot of bright orange; he's holding a piece of fluorescent chalk.
Brian inspects every one of your board for knots and other serious imperfections, marks those defects with the chalk, and then feeds the board into the defecting saw (sorry that we didn't get a better picture of that for you).
The defecting saw "reads" the chalk marks and automatically cuts the plank at those marks.
This is why all your custom planks won't be the exact same length. Some planks will make it through the inspection and defect saw station with just an inch or two nipped off the end, while others will require a more substantial trim.
End-matching
After exiting the defect saw your planks makes the short trip across rollers (visible in the bottom right corner of the photo) to the end-matching saw.
Keep in mind that at this point tongue and groove cuts have been made only on the long sides of the planks, not the ends.
The end-matching saw is what adds the tongue and groove cuts to each end of every plank.
See "What is end-matched flooring?" on our Frequently Asked Questions page for a close-up of a plank that's just exited the end-matcher.
Wire Brushing
If you've chosen a textured finish for your floor—to bring out the natural grain, for example, or to create some dramatic "white-washed" effects—your planks will be run through the wire-brusher.
While Jim feeds the planks in, Robbie takes them off the other end to stack on a waiting pallet for wrapping.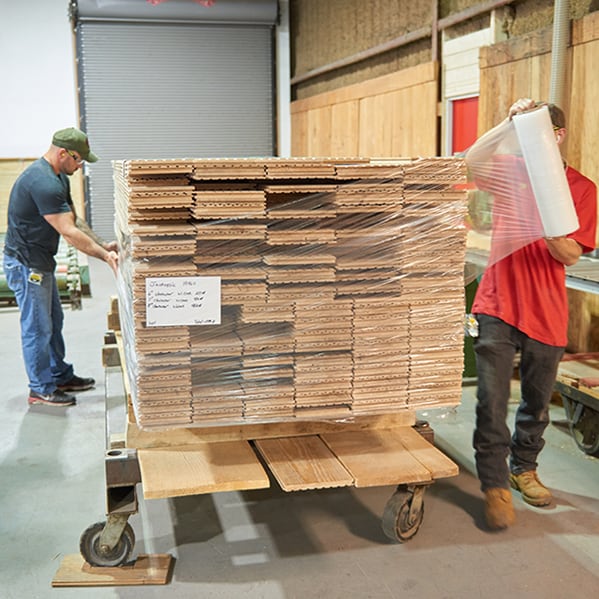 Packaging your custom flooring order!
When we say your flooring planks are custom milled for you, we mean it! We're not ripping or molding or sanding your flooring planks at the same time as another customer's. All of your flooring is processed as a batch at each station before being moved to the next, because each machine is calibrated and each plank checked every step of the way.
Once the last of your planks exits the sander, your entire order is stacked, labeled, and wrapped for shipment to you.
And no, there's no fancy shrink-wrapping machinery involved, unfortunately. Just two men, teamwork, and lots of plastic wrap.